Make a SmartTV channel from your videos & earn up to 10X YouTube CPM!
YouTube is very crowded, but SmartTVs AppStores still have limited content. SmartTV apps that feature your videos let you get discovered easily – and earn up to 10X more. It's instant, it's Zero effort, and it's free!
Check out these creators SmartTV apps:

 Grow your subscriber base
Smart TV users who look for content in the TV's AppStore (Roku, LG, FireTV, AppleTV etc) easily discover your content and instantly subscribe to your YouTube channel.
Make more money
BrightVideo is not intended to replace YouTube; it is an easy way to make extra revenue. We pay you up to 3X your existing YouTube RPM.

User Engagement and Retention
Your channel has a dedicated icon on the user's TV menu. Think of it as a bookmark. This makes it easy for users to come back for more. 
"I couldn't be happier with the seamless experience BrightVideo has provided to get my content in front of new users who wouldn't typically discover it. I appreciate that nothing changed with my workflow; I signed the contract, and BrightVideo did the rest! The onboarding process was simple and easy, complete with automatic payments and a friendly support team always happy to answer any questions. BrightVideo has been a reliable and invaluable partner in my content strategy and creative journey."
"Bright Data allowed me to not only create a new form of income which is critical for an upcoming creator but also allowed me to reach a new audience but also making it possible for my existing audience to watch my content add- free! The communication has been smooth and all my questions get answered quickly. I for one am glad to be a part of this!"
"I'd like to say a huge thank you to BrightVideo for allowing me to be a part of their new SmartTV channel programme. I've been delighted to witness channel growth through this new avenue as my videos have been able to reach viewers and SmartTV app users who would not normally view my content - or who would not even know what ASMR is, for that matter! The onboarding process was smooth and simple, with the BrightVideo team taking care of everything once the contract was signed. Payment has been reliable and fast. I have also had no problems connecting with the team, who have been friendly and helpful each step of the way. Again, my deepest gratitude to BrightVideo for allowing me to join them on this journey!"
It's easy, and you can stop anytime!
Your effort? Zero.
You don't need to change your workflow in any way. Bright Video takes your content directly from YouTube.
No commitment
If you decide to stop for any reason, simply let us know and we will remove your content or your app from the AppStores.
Automatic payments
You can get paid via PayPal or wire transfer every month.
No personal data is ever collected
At no point is a user's personal data ever collected by us or any of the fully-vetted and monitored businesses.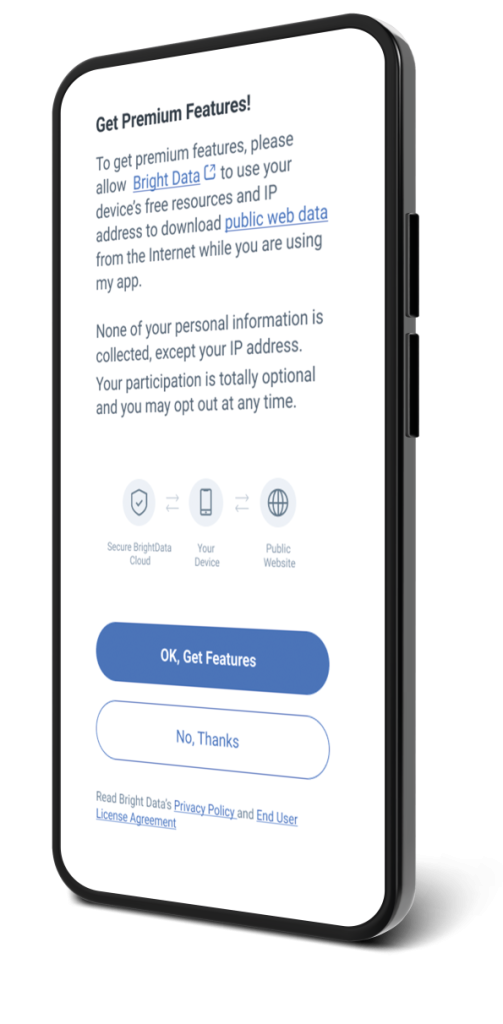 Fully vetted companies
Business leaders including Fortune500 companies will route secure traffic through your users' devices allowing them to level the playing field in their respective industries by collecting fully compliant open-source data.
Ethical usage
We constantly monitor our network activity. We only approve use cases that comply with our strict 'Know Your Customer' compliance standards.
Giving back
We make our networks available to non- profits, universities and research institutions who use these data sets as a crucial part of their medical solutions and social projects.
Get paid for your videos!
Register your YouTube Channel to increase your revenue and expand your audience!